Efter forslag fra ejer Lisser Rye Ejersbo, er der dags dato opsat et par bogkasser i vaskeriet. Tanken er at give ejere i Wessels Have mulighed for at bytte bøger med hinanden. Man er således velkommen til at tage, efterlede eller bytte bøger.
Når reolen er fuld, vil bestyrelsen træffe foranstaltninger for at få sorteret i bøgerne, således at der igen bliver skabt plads.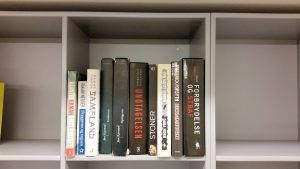 ENGLISH:
Following suggestion from owner Lisser Rye Ejersbo, a few bookcases have been set up in the laundry today. The idea is to give owners in Wessel's Have the opportunity to exchange books with each other. You are therefore welcome to take, leave or exchange books.
When the rack is full, members of the community board will take actions to get the books sorted.
Med venlige hilsner
Bestyrelsen: Lars, Sergej, Louise & Rasmus